MORE TASTE. LESS ACID. EVERYBODY WINS.
We were brainstorming names for our new coffee company and had cranked up the tunes to get the creativity flowing. Someone suggested we name our medium roast "Stuck in the Middle" after the song playing on the radio. Inspiration struck and we named all our roasts after classic rock songs. Coffee that rocks was born!
Find out more about the songs behind our blends.
Sometimes you want to listen to a couple of songs before buy the album. Our sample pack includes two each of Stuck in the Middle, Heart of Bold and Dark as Night.
Moderate and mellow, Stuck In The Middle is a medium blend low-acid coffee that has plenty of taste, but isn't too strong. Smooth and perfectly balanced, it's the rhythm guitar of our roasts.
Heart Of Bold is perfect for people wanting a full-body, low-acid coffee blend packed with flavor. Rugged and resolute like a wicked baseline, it's roasted deep enough to unlock the blend's full character.
Daring and dangerous, Dark As Night is an exceptional French roast low-acid coffee for those who want to experience a delicious dark side. It's thick and lush with incredible body, and just a hint of smoke. Kinda like hanging out with the band in the back of the tour bus.
$ 6.50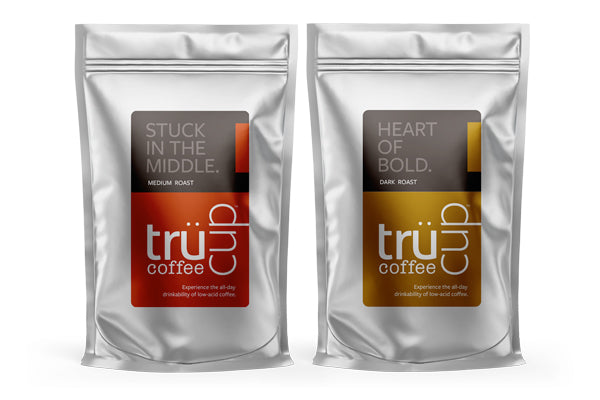 Our drip grind sample pack is a great way to try two of our biggest hits.  Each pack contains a 3 oz. sample of Stuck in the Middle and Heart of Bold.
$ 6.50